Moovetem is a platform that allows the creation of gamified activities by using mobile devices, such as smartphones and tablets. And although this definition seems simple, the possibilities of what can be created within the platform are vast. We have a variety of cases and inspiring examples, ranging from simple tasks created for small groups to tailored, complex gamified activities that take place simultaneously across the globe.
One of the company's partners who managed to capture the essence of Mooveteam and turn it into amazing projects is Rick Van Balen, New Business and Product Development at Creatics. The company is a B2B provider of innovative products and concepts for events agencies and governmental clients, public agency clients.
In this scenario, Cyber24 was created: an educational escape game developed in association with the Dutch police and educational experts. Here you know more about how they came up with the idea and how important it was to partner with Mooveteam to deliver the project.
Projects that foment the future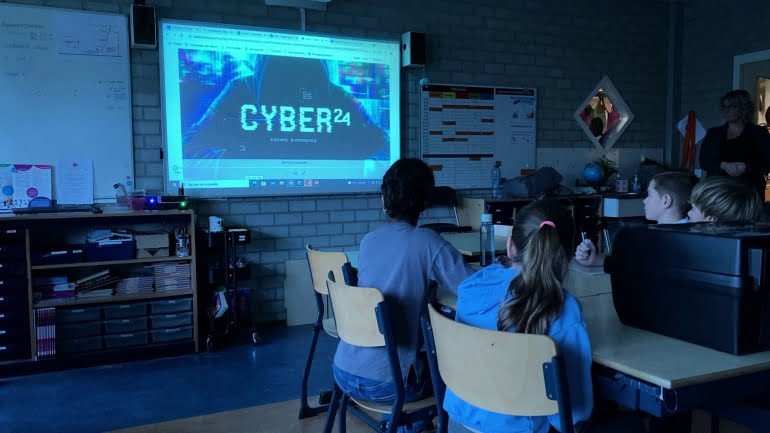 Mooveteam provides the necessary framework to carry out gamified activities that can develop our society, such as is the case for education. Cyber24, for instance, provides a series of tasks that aim to teach kids on how to be safe when navigating the internet.
"Gamification is not necessarily the future of education but is a potent tool to help with this process, by transforming the traditional teaching into a much cooler activity helping to internalize the lessons better. I particularly believe that weekly use of three to four hours of this kind of gamified strategy can be a great support for studies, and there is research backing this thinking. You can, for example, use games to bring innovation and engagement to the classroom. In the Netherlands, there are a lot of serious projects of games for education being created right now and this is a growing market," he says.
What Rick calls serious projects of games are those gamified activities that make participants learn by experience, as they must make decisions that directly affect the game and its course. For this project to be well done, it is necessary to combine the learning objectives in the right proportion—it is not enough to fill the user with information, but at the same time it must be focused on learning.
It is also important to note that this type of project is a hybrid of physical and online elements, with tools that assist with surveys, interactive tasks, rewards, and scoring. Features such as augmented reality are also more than welcome.
But is this market really growing? According to the expert, yes, it is. "The government wants that population and children to learn about the issue and the problems surrounding it. How can we train them to understand the dangers that exist? What can we do to make them more aware of these dangers? With this in mind, we start the process to develop the projects. Most of the time they happen with Mooveteam, but sometimes the users don't want to use the iPad, and we find another way. There are other customers, but most of those requests come from the government, which wants to prevent children from being tricked into doing criminal activities", he explains.
Most importantly, those games are not made for the common computer screen model with the user sitting in front of it for hours. It is an escape-game where one has to solve a physical puzzle collectively while using the application on the device to apply the answers. In this context, in addition to Cyber24, the company has also developed a game to strengthen professional high school education.
That is how it all started:
James tells us that they received a demand from a client: "how can we create a game to teach about cybersecurity?". A basic request that generated more than a product, but new opportunities for a new market.
"They had this specific need and we solved it by recreating exactly the problems that the students might face. I made the case, the boxes and the lock system. We bought a case and went to a factory to request custom-made items for it. The puzzles, QR codes, movies, storytelling, and the final prototype were all created by our team with the help of a design studio", he says.
The main goal is that the children play and ask questions, perform exercises, and solve problems. Both students and teachers participate, proving that it is possible to educate in a playful and engaging way.
Special thanks to our partner Rick Van Balen, for kindly answering our interviewer.
Interviewer Denise Norões
Article writer Carol Tavares
Start using Mooveteam at your business today
Please fill out our form, and we'll answer you shortly