Team building serves as a foundational way to bring groups of people together to work efficiently with each other, promoting collaboration and increasing motivation. Mobile scavenger hunts are a wonderful way to naturally transition into group work on a corporate level and are intellectually stimulating, active, socializing and a great way to get to know one another. Creating a mobile scavenger hunt requires the internet, a list of items, clues, and a group of teams to play.
Nothing brings people closer together than finding commonality among the group. Food just happens to be one thing that people love and are fascinated with. With so many yummy food locations, there are endless opportunities for scavenger hunts around the world. On the mobile scavenger hunt, there are points that you can see on the map of the city. If you click on a pin, you see exactly how far you are from that point. The first destination might be at a coffee shop and the task might be to buy your favorite coffee and pastry. The next destination may be a restaurant in which everyone sits down to eat together. Lastly, the final destination may be an ice cream shop to finish off the meal together. However, the benefits of MooveTEAM's mobile scavenger hunts do not stop at food. Mobile scavenger hunts are a way to bring cultures together. From architecture styles to product brands, the benefits of team building contribute ways to bring companies together.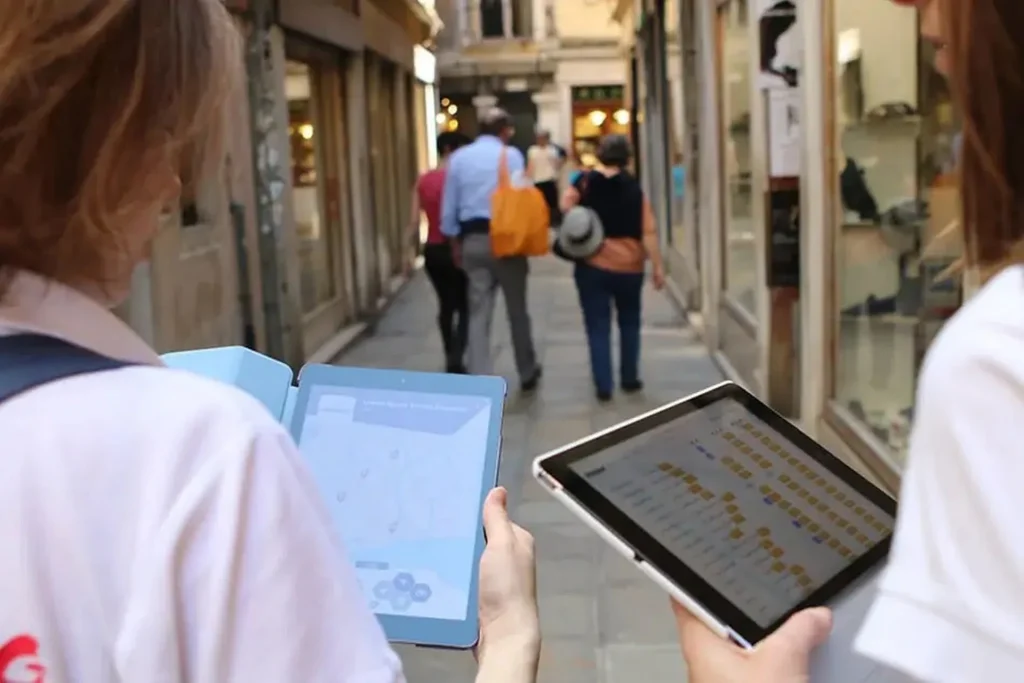 How a Scavenger Hunt in Barcelona could be
All over the world, there are places and landmarks that people dream of visiting. For example, in Barcelona, Spain, there are countless historical sites to see from so many artists like Antoni Gaudí such as La Sagrada Familia, Casa Mila, Park Güell. Having the opportunity to explore the culture of a city like Barcelona with the option of a mobile scavenger hunt is ideal. The user is able to relax with a set plan ready to go instead of worrying about where to go and what to see. This is all possible by the MooveTEAM app! For example, in cities that have so much culture to see like Barcelona, a scavenger hunt is a great way to see details as it can focus on one area. In Barcelona there are many spots all around the city that need to be explored in depth, like the Gothic Quarter. There are so many other things to see and admire as well, such as the architecture. Seeing the architecture of La Sagrada Familia, Casa Batlló, Casa Amatller, Park Güell, La Pedrera are all must-sees in Barcelona. With the MooveTEAM app scavenger hunt, corporate employees can talk about the beauty of the differences of architecture as a result of team building.
Setting up a scavenger hunt to follow to see different places makes the experience one to remember. Team building becomes fun and a great way to get to know corporate coworkers on a personal level. When you share significant moments like this with a team, it becomes a bond. As a result, team bonding proves to be helpful in easing a group of people to work well together.
How to create a Scavenger Hunt with MooveTEAM App
MooveTEAM offers a great way to get started on this scavenger hunt. Firstly, you sign up for a demo, which is an amazing opportunity to test out the session and see if it is appropriate for the corporate employees. Each scavenger hunt is customizable meaning that depending on what everyone's interests are, each location can specifically cater the group. There are QR codes that each team can scan to activate the game. There is a challenge to complete once arrived at each location point. These challenges range from hangman, multiple choice, puzzles, and more. All of it is customizable, which makes it relatable and personal. Clicking on each location point will show you exactly how far away you are from it, in kilometers. Once you get to the exact location the challenge will automatically pop up. Whoever gets the most points, wins! The great thing about these challenges is that it can make people more knowledgeable about what they are seeing. Seeing beautiful architecture in person is amazing, but learning facts about each location is an elevated experience. For example, seeing Gaudí's architecture and work is incredible, but knowing that La Sagrada Familia was built in 1882 and that Gaudí was often mistaken for a beggar adds a memory and information to the site. MooveTEAM scavenger hunts add this enhanced experience to team building while seeing beautiful sites around the world.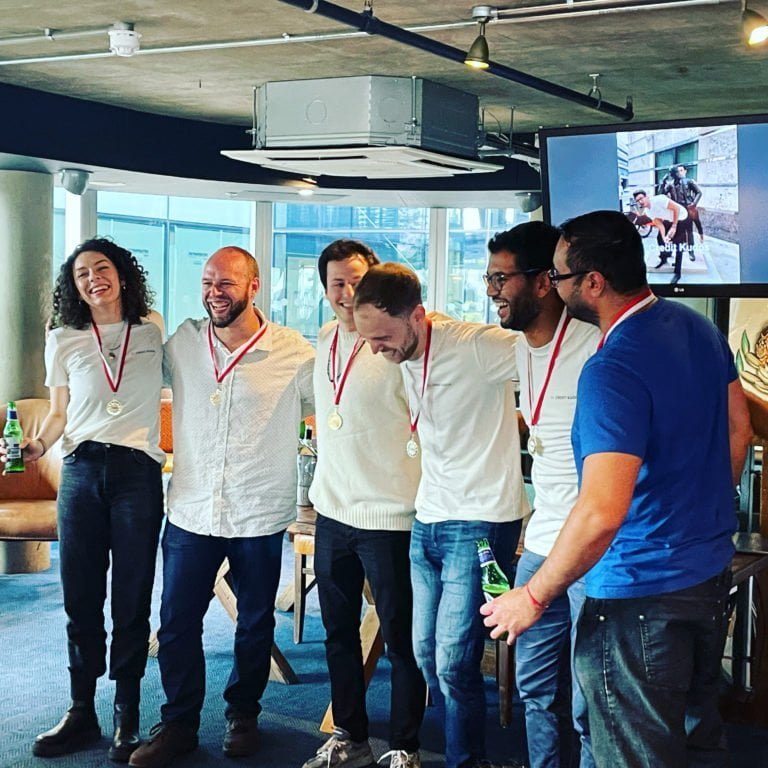 Benefits of Team Building for your organization
Team building is great for many reasons. On a corporate level, team building is an opportunity to expand individual networks. Getting to know colleagues on a personal level can enhance relationships working together moving forward. Other than the social aspect, there is the chance of elevated teamwork and sometimes a healthy competition. The celebration after completing the scavenger hunt is rewarding. Mobile scavenger hunts are an incredible way to foster ideas and cultivate different perspectives. Communication also is a huge factor in working with people and contributes greatly to a corporate company's atmosphere. After team building, there becomes something to look forward to for future group work. MooveTEAM's scavenger hunt for corporate team building not only benefits the group, but people also grow as individuals. It builds character and conversation about how each individual can contribute to the corporate workplace. Someone who may be better at directions can interpret the roadmap of projects, and someone who notices details in each location may be more detail oriented in the word environment. This is all part of team building and why a mobile scavenger hunt can be the link to a successful work environment in a corporate office.
MooveTEAM is committed to building meaningful experiences that will make a lasting impact. A mobile scavenger hunt is one of the ways that people can connect and team build on a corporate employee level, and MooveTEAM pushes for the experiences to be creative, fun, and innovative.