Resorts are the perfect location for team building activities, as they offer a variety of amenities, including accommodations, dining, meeting spaces, and recreational activities, which can make them an ideal choice for team building events. Furthermore, resorts often have scenic locations and can provide a more relaxed and enjoyable atmosphere for participants.

Some resorts have experienced event staff who can assist in planning and executing team building activities. Many only receive this kind of event when an external event planner brings their corporate clients in. In this article, we approach how offering team building packages on your resort is a good business option. We also tell you how mooveTEAM can be a valuable tool for resort staff looking to create fun team building activities that provide good times for the participants and give the expected results for their employer.
The Business Advantages of Team Building for Resorts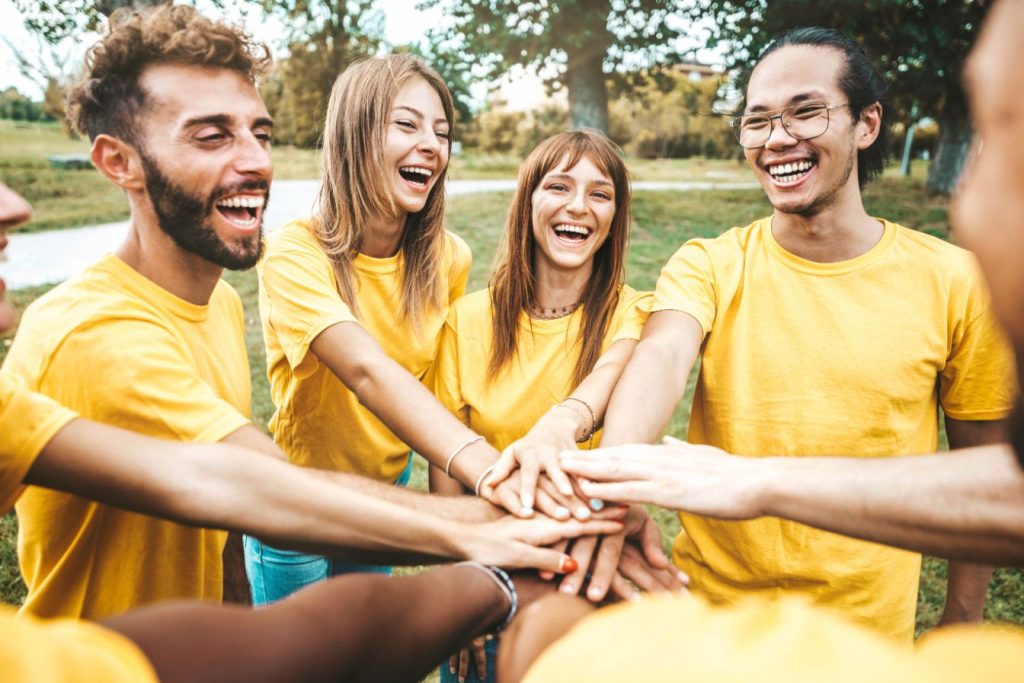 Team building has become a crucial component in the corporate world, as it not only helps in improving team morale and productivity, but also creates a sense of camaraderie and collaboration among employees. A resort is the perfect setting to reach those objectives, as they have scenic locations and it has diverse facilities and activities available. Resorts can benefit greatly from offering team building activities to corporate clients, as it provides an additional revenue stream during the off-season and helps build long-lasting relationships with corporate partners.
Team building experiences can also be a way to foster loyalty and relationships with corporate clients. If the experience is positive, it may lead to repeat business and referrals. The same goes for the participants of the team building activity. If they have a great time, they may come back to the hotel or resort with friends and family for a vacation or other event.
In addition to the potential revenue and relationship building benefits, team building experiences can also be a way to showcase the unique qualities of the hotel or resort. For example, if the property is located near a beach or lake, water-based activities can be incorporated into the team building experience. Or if the hotel has a unique feature, such as a spa or golf course, those can also be utilized in the activity.
Another benefit of offering team building experiences is that they can be customized to fit the needs and goals of the corporate client. For example, if the client is looking to improve communication and collaboration among their employees, the team building activity can be designed to focus on those skills. Caring for all those aspects can be challenging, and it is here where mooveTEAM can help you.
mooveTEAM: The Ultimate Gamification Solution
mooveTEAM is a gamification platform that enables businesses to create and manage a vast array of gamified experiences to be played on mobile devices both smartphones and tablets, either iOS or Android. The event planner design and manage the activities through the web back-office.
One of the key benefits of using mooveTEAM is the flexibility it offers. With a wide range of activities available, the resorts can tailor its team building events to suit the needs and preferences of each individual group. From scavenger hunts to boat races, Mooveteam has something to offer everyone, ensuring that each event is both fun and challenging. The GPS-based challenges and the diverse ways you can activate and play them allow event planners to take advantage of all the areas and facilities in the resort.
A great example of the use of mooveTEAM for team building in resorts is from our partner, Beteambuilding. They have come up with unique and exciting team-building activities as they are the official team-building provider for Grup Xcaret, a chain of hotels and theme parks in Mexico. One of the main reasons the company chose Beteambuilding as their provider is the fact that mooveTEAM offers the flexibility that the parks require and adheres to all their guidelines.
The developed activities such as Be Tech Building, a new activity that offers a personalized rally experience for participants. Using iPads, participants are guided to different challenges, which are automatically activated through geolocation, QR codes, iBeacon, or manual team activation. The activity is designed to be interactive and entertaining, with a set of interactive games that stimulate creativity, strategy, leadership, teamwork, and company identity. Be Tech Building offers customizable content, including photos, videos, robots, augmented reality, virtual presenters, and personalized maps, making it a unique and fun team building activity that reinforces brand identity and team cohesion. Beteambuilding also provides team-building activities at the Hard Rock Hotel, and other hotel chains due to their expertise and the fact they are mooveTEAM partners.
Another key benefit of using Mooveteam is the way it encourages teamwork and collaboration. Many of the activities involve working together to solve problems and complete challenges, which helps to build trust and strengthen bonds between team members. By working together towards a common goal, team members can learn to communicate more effectively and develop a greater sense of camaraderie.
As you can see by Beteambuilding's use case, the platform offers a range of customization options, allowing the resorts to add their corporate client's branding and identity to each event. With the ability to add logos, custom maps, and other branding elements, the Resort can ensure that each event is uniquely tailored, helping to build brand awareness and loyalty among its guests.
Finally, Mooveteam's analytics and reporting features provide valuable insights into each event, allowing the resort to measure the success of each activity and make improvements for future events. By tracking engagement, completion rates, and other metrics, the resort can continuously improve the quality and effectiveness of its team building activities.
How can start using mooveTEAM in my resort?
If you are interested in incorporating mooveTEAM in your resort's team building activities, there are a few options to get started. The first option is to request a demo with one of our representatives, who can guide you through the platform and answer any questions you may have. This is a great option if you want to operate the platform yourself. If you are looking for a more hands-off approach, we have expert event planners who can consult with you to create a custom team building experience for your resort and even handle all the material and logistics of offering it to corporate clients. Either way, we are committed to helping you create engaging and memorable team building activities for your guests. Contact us today to learn more about how mooveTEAM can enhance your resort's offerings.
Book a demo